Children's meditation class.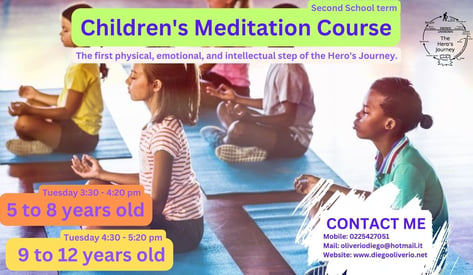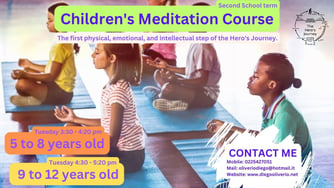 BOOST YOUR CHILD'S MIND & BODY
Our Meditation, Exercise, and Mindful Game Program.
Come with your children to explore the magic of science: our program focuses on four key areas: physical exercise, emotional balance, meditation, and mindful play. We offer fun and age-appropriate activities that help children stay active, attentive, and engaged. Through our holistic approach, we believe children can develop a strong mind-body connection that will benefit them in all areas of their lives.
ADMIN INFO
Children's Meditation Program Fees: Affordable and Accessible for All
The payment method for the Children's Meditation Course is monthly, with each month including four meditation classes. The cost per class is $20, totalling $80 for the entire month.
It is possible for people with financial difficulties to take part in meditation classes. Send me a private message and come with your children.
WHAT WE DO
Our meditation program for children aged 5 to 12
It will involve a variety of exercises designed to promote mindfulness and emotional regulation. These exercises will include body contractions and relaxation techniques that help children develop body awareness and release tension. Breathing exercises will also be incorporated to help children focus their attention and calm their minds.
The meditation program for children aged 5 to 12 is designed to be engaging, enjoyable, and effective in helping children develop mindfulness and emotional regulation skills. In addition to basic mindfulness techniques, I will also introduce special fun techniques such as Belly button breathing, Toy breathing, One-Nostril Breathing, the Rag-doll technique, and Shake and Roll out the stress. These techniques are aimed at helping children to focus their attention, regulate their emotions, and build resilience.
The program will also include guided meditations, such as a meditation for confidence, designed to help children cultivate positive qualities like self-esteem, compassion, and gratitude. I understand that every child is unique, so I will work closely with each child to identify the best techniques and approaches for them.
Overall, the program is designed to help children develop the skills and mindset needed to face life's challenges with courage and resilience while cultivating inner peace and well-being. We believe that by combining basic mindfulness techniques with fun and engaging techniques, children will be more likely to develop a love for mindfulness and carry these skills with them into adulthood.
CORE PRINCIPLE
The Idea of exposing oneself to discomfort
to build resilience and overcome obstacles. We can develop mental strength, discipline, and perseverance by seeking out and pushing through discomfort. This can take many forms, from physical challenges to meditation or intellectual activity.
The key to exposing oneself to discomfort is to do it deliberately and intentionally. Rather than simply enduring discomfort when it arises, we suggest actively seeking out challenges and pushing ourselves beyond our comfort zones by using meditation and other practices.
I also emphasize the importance of being honest about our limitations and weaknesses. By acknowledging our vulnerabilities and areas of struggle, we can better target our efforts to overcome them and build our resilience.
The practice of meditation can be a powerful tool for children to develop mindfulness and emotional regulation skills. However, it's also important to help children build resilience by exposing them to discomfort deliberately and intentionally. They can develop mental strength, discipline, and perseverance by encouraging children to push beyond their comfort zones through physical or mental challenges.
Incorporating mindfulness practices into exposure to discomfort can help children better manage their emotions and remain calm in adversity. By combining meditation with the concept of exposure to pain, children can develop the skills and mindset needed to face life's challenges with courage and resilience.
AGE
Introducing our meditation program designed specifically for children aged 5 to 12!
At a time when stress and anxiety are all around us, it's more important than ever to help our children develop healthy coping mechanisms and learn to manage their emotions. The meditation program offers a fun and engaging way for children to do just that!
The program features short guided meditations for children aged 5 to 8 with simple language and easy-to-follow instructions. I use fun and interactive elements such as visualization, storytelling, and relaxing music to make the experience enjoyable and accessible for young children.
For children aged 9 to 12, our program takes a more advanced approach, with longer meditation sessions and themed guided meditations that focus on topics such as self-esteem, compassion, and gratitude. We also encourage children to participate in discussions before and after the meditation sessions, allowing them to reflect on their experiences and share their thoughts and feelings with their peers.
Diego Oliverio is trained to work with children and create a safe and supportive environment for their practice. Through our program, children will develop mindfulness, self-awareness, and emotional regulation skills that will benefit them throughout their lives.
Are you looking for a way to improve your child's focus and concentration? Contact us to learn about our meditation course.
WHO I AM
I am a Psychotherapy and Hypnotherapy student.
I worked as Other Drugs (AOD) Support Worker and Youth worker in different social and cultural contexts in three countries (Italy, Great Britain and Australia). Over the course of ten years, I practised Zen meditation, helped people with psychiatric or mental disabilities find employment and feel better, supported drug users in clarifying their goals, and offered developmental direction to the youth. I use mindfulness and NLP (Neurologic-Linguistic Programming) to support youth and adults. Science becomes magic, and I use scientific practice to create a magic world.
HOW IT WOULD BE IF...?
Immagine how it would be if your child could respond in any situation in the best possible way.
How would it be?
If your kids could reduce their anger, fear and sadness and enter a state of control and calmness. Formulate their need in a tranquil and relaxed mindset.

If your hyperactive children can relax, improve their concentration at school and achieve the best outcome.

If your disorganised children can regulate and organise their internal thoughts, respond to real-life events and act excellently and appropriately.

If your passive children increase their desire to be active, begin to engage in physical activity much more and display outstanding sports performance.
WE WILL CREATE AN ANCHOR (A gesture that will lead you to a calm state anytime you need it.), MAGIC CIRCLE (an imaginary space to maintain joy)and other special practices.
Our body is essential to regulate our emotions. In our bodies, we feel our feelings, and if we can regulate our inner state, we fell gain more power. The same rule applies to children as well. The release of tension in the body increases relaxation and well-being.
Breathing and relieving tension are essential to regulate children's emotions, thoughts, and bodies. These encounters will help children calm their automatic emotional response and reduce and control their reactions.
All the practises are created to increase relaxation. The breath and the body will be the tool that we will use to achieve our goals. I will teach the children techniques to regulate emotions using simple body movements. Imagine how it would be if your child could respond in any situation in the best possible way.
Is your child experiencing sleep problems or restlessness? Our meditation course can help. Contact us for details.
Are you looking for a way to strengthen the bond between you and your child? Our meditation course is a great opportunity. Contact us to get started
Help your child thrive both mentally and physically with our meditation course. Contact us for more information.
Give your child the tools they need to manage their emotions with our meditation course. Contact us to enroll.
Help your child achieve inner peace with our meditation course! Contact us to learn more.
Is your child struggling with stress and anxiety? meditation course can help. Contact us today.
SCHEDULE YOUR APPOINTMENT TODAY!
Get help wherever you are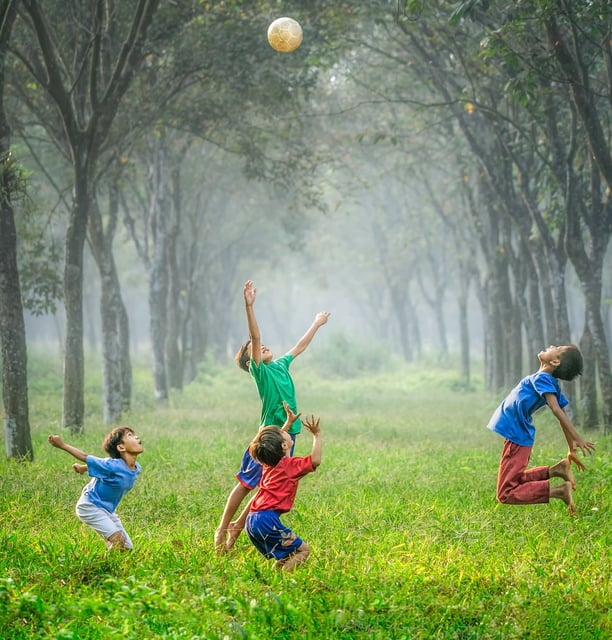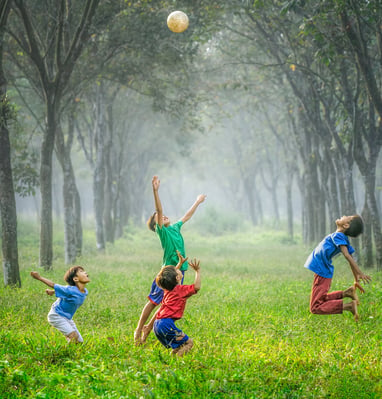 On top of face-to-face counseling, we also offer online therapy for anyone and everyone. Ask about our hybrid packages that include both in-person and online therapy.